Will more power in Wales mean better decision making?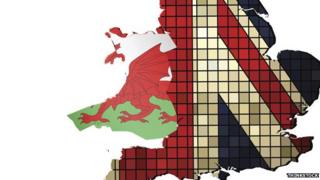 As No campaigners promise more devolution to Scotland if they shun independence, BBC Wales' economics correspondent Sarah Dickins looks at two policies that could change if Wales were to get extra powers:
Would better decisions be made for the people of Wales if more powers were given to Cardiff Bay after the Scottish referendum?
Spare rooms
That was a question raised by CHC Cymru interim chief executive Sioned Hughes. She argues Wales has been caught in the middle of housing benefit changes, introduced by the UK government, where people with a spare room in social housing had to move to a smaller home or lose benefit.
Ms Hughes says households are still struggling to cope with changes and making decisions about whether to heat their homes or eat. She says research by CHC Cymru shows that of 22,000 housing association tenants:
3% have moved
18% have borrowed money to cope
24% are getting discretionary housing benefit from the Welsh government through local authorities
11% just have not been paying the money they owe
Many months after the changes to housing benefit were introduced, it appears to be controversial in Wales.
Jobs confusion?
Schemes to get people into work are another area that it has been suggested could be devolved should Wales get more power. At the moment the Work Programme is run from Westminster while schemes like Jobs Growth Wales and Moving Forward are schemes developed by the Welsh government .
In January 2014, a report by the Welsh Affairs Select Committee said employment schemes in Wales are particularly confusing for employers "due to the myriad of different UK government and Welsh government welfare to work and employment schemes".
The committee of MPs also heard, in the first two years, one in nine people in Wales who joined the Work Programme found sustained work.
Mike Theodoulou, chairman of the Centre for Business and Social Action in Llanelli agreed with the findings.
He also claims that the Work Programme finds employment for young people who are the easiest to employ whereas he says that quite a few of the Welsh initiatives that he has been involved with are targeting the really difficult cases and he says they are more successful.
He argues that having some welfare to work schemes run by Westminster, and others by Cardiff Bay, is confusing for both employers and young people seeking work.