NHS independent inquiry call by BMA to avoid "meltdown"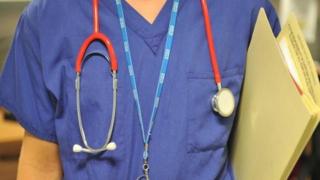 The British Medical Association has called for a full-scale independent investigation into all services in the NHS in Wales.
Chairman Dr Phil Banfield said the NHS in Wales was facing "imminent meltdown" unless action was taken swiftly.
BMA Wales wants Healthcare Inspectorate Wales to become independent of the NHS and the Welsh government.
A Welsh government spokesperson said: "We have received a copy of the BMA's report and look forward to reading it."
He added that an independent review of HIW was currently being carried out.
The BMA also wants the whistleblowing policy rewritten, saying it does not welcome criticism or complaint as it stands.
Dr Banfield said there were a small number of doctors who had been suspended as a result of raising concerns.
He also claimed the Welsh government was "in denial" about the crisis in recruiting and retaining staff.
The BMA made the calls following the Andrews report into services at the Princess of Wales Hospital in Bridgend and Neath Port Talbot Hospital, both operated by Abertawe Bro Morgannwg University Health Board, and the Evans review of complaints handling in the Welsh NHS.
The Conservatives welcomed the call for the inquiry, saying they wanted a similar style investigation to that carried out in the NHS in England by its medical director Professor Bruce Keogh following concerns over high mortality rates.
Shadow health minister Darren Millar AM said: "A Keogh-style review of the health service - right across Wales - would address the very real concerns of clinicians and see structures put in place to protect communities.
"Standards of care within Labour's Welsh NHS have been the subject of worry and concern for many months. The evidence is stacking up high. Mortality data, horrific evidence, protests, Labour government apologies, and more and more support for our calls."