Education minister wants pupils 'qualified for life'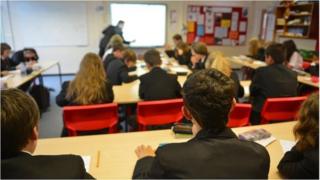 Children in Wales should be "qualified for life", under a new plan to boost education for three to 19 year olds.
Education Minister Huw Lewis will set out an ambition that every youngster here should benefit from excellent teaching and learning.
An international report on Welsh education has previously criticised a "lack of vision".
New targets for Wales' ranking in the international Pisa tests are also expected.
At the moment, the aim is for Wales to be in the top 20 participating countries worldwide in two years' time, up from around 40th place out of 68 in 2013.
The Qualified for Life plan will be unveiled by Mr Lewis at the National Association of Head Teachers Cymru conference in Newport on Thursday.
It will focus on several key areas which the Welsh government hopes will drive up standards and improve results by 2020.