Dylan Thomas coin to mark 100 years since his birth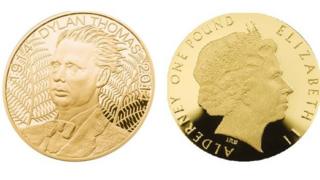 A wide eyed and wild haired Dylan Thomas could soon look up at you from your wallet.
New silver £5 and gold £1 coins have been made by the Royal Mint to celebrate the life of the poet 100 years after his birth.
The Under Milk Wood poet is represented on the coin surrounded by ferns.
His granddaughter Hannah Ellis struck one of the first coins and says she hopes they "leave a lasting legacy".
Tempestuous character
"It's my hope...that his writing will continue to inspire new audiences," she added.
Dylan's name, meaning "son of the waves", is reflected in the design of the coin, which the Royal Mint say suits his tempestuous character.
"The waves of Dylan's hair reflect the waves of Dylan's name and of water," designer of the coin Lee R Jones said.
Inspire
Ferns frame the coin, recalling Dylan Thomas' well-known poem Fern Hill, as well as the Welsh landscape that inspired him.
Mr Jones says he wants to make the poet's work accessible and "inspire others to read Dylan's work".
The coin is part of a series of celebrations to commemorate the centenary on the 27th October.
An animated film of poem The Hunchback in The Park, has also been released to celebrate his life.