Life-saving dog Joker wins Hearing Dog of the Year award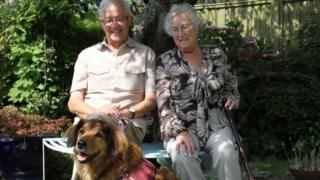 A dog called Joker had a very serious role to play which helped save the life of his owner's wife.
The seven-year-old crossbreed is a hearing dog who helps partially-deaf Robert Middleton when the doorbell rings or when the two go shopping.
But when his wife Valerie collapsed on the bathroom floor during the night, Joker woke Mr Middleton.
"I was in such a bad state, perhaps I wouldn't be here now," said Mrs Middleton, from New Quay, Ceredigion.
Her husband, a retired policeman, called the ambulance after Joker roused him and led him to the bathroom.
Now Joker has been awarded the Heroic Partnership of the Year Award with Mr Middleton at the Hearing Dog of the Year awards.
The awards were presented by the Princess Royal in London.