School sickness leaflet causes 'anger' in south Wales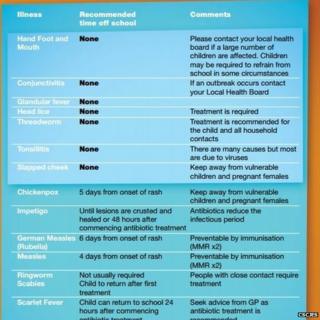 A leaflet sent to parents telling them how much time children should have off for sickness has caused "confusion and anger", says a chair of governors at two schools in Rhondda Cynon Taff.
Pauline Jarman has received calls from parents due to the leaflet saying there was no recommended time off for things like tonsillitis and glandular fever.
It has been produced by an education consortium covering south Wales.
They have said health officials signed off the advice.
"I have confidence in parents' judgement," said Mountain Ash East ward councillor Jarman who is also chair of governors at Mountain Ash Comprehensive School and Caegarw primary.
She said it implied children should not have any time off for some ailments while it may have been more appropriate to say "play it by ear" because each child is different and the severity of an illness can affect them differently.
The leaflet has been produced by the Central South Consortium Joint Education Service (CSCJES) for the councils covering Bridgend, Cardiff, Merthyr Tydfil, Rhondda Cynon Taff and Vale of Glamorgan.
BBC Wales was unable to contact representatives for the consortium on Saturday but a spokesperson for Rhondda Cynon Taff told Wales Online that advice from several health organisations had been sought before the leaflet was printed.
It comes as education watchdog Estyn wants high school attendance improved.