Nearly 700 workers to be recruited to help with Xmas post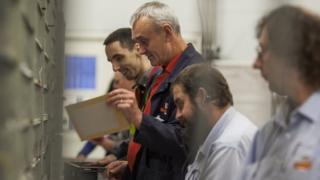 Almost 680 seasonal workers are being employed by Royal Mail to try to get Christmas cards and presents to their destinations on time.
They are employing the festive helpers in addition to their permanent 6,500 postmen in Wales.
South Wales will get the most extra staff, with 327 more in Llantrisant and 204 in Cardiff.
In Swansea an extra 102 postal workers will be recruited for the festive season.
Royal Mail Operations Director Geoff Braden said: "Christmas is the busiest time of the year for Royal Mail."
The temporary positions are across a variety of shifts and will be available between mid November and early January 2015.
The last chance to send first class Christmas cards in the UK is on Saturday 20 December.
---
Royal Mail Christmas recruits in Wales
Cardiff Mail Centre - 204
Swansea Mail Centre and Parcelforce Worldwide Centre - 102
Llantrisant (South Wales) Parcel Centre - 327
Newport Parcelforce Centre - 22
Deeside (North Wales) Parcelforce Centre - 24
---