Welsh soap opera Pobol y Cwm wins special Bafta award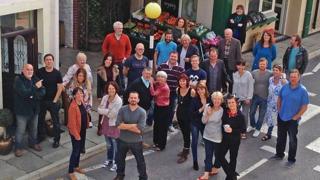 Long-running Welsh television soap Pobol y Cwm has been presented with a Special Award by Bafta Cymru.
Honouring the show's 40th anniversary, the award was presented at an event at Roath Lock Studios in Cardiff Bay.
Hannah Raybould, director of Bafta Cymru, presented the accolade to actor Gareth Lewis, who accepted it on behalf of the cast and crew.
The actor has played character Meic Pierce for 39 years.
Ms Raybould said: "Pobol y Cwm has been one of the most popular shows on S4C since the channel started broadcasting.
"In that time the cast and crew has discovered and nurtured a great number of talented individuals.
"The Bafta Cymru committee is very pleased to be able to recognise Pobol y Cwm's achievements over four decades of broadcasting."
'Remarkable achievements'
Rhodri Talfan Davies, BBC Cymru Wales director, said: "I'm so delighted and grateful that Bafta Cymru has honoured the remarkable achievements of Pobol y Cwm as it hits the big 4-0."
S4C's chief executive, Ian Jones, said: "I'd like to offer my warmest congratulations to all members of the cast and crew who have worked on Pobol y Cwm over the years and who continue to do so."