Prison officer numbers down by 37% in Wales in four years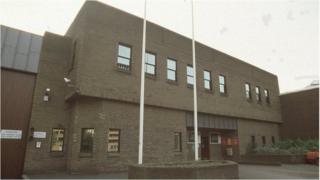 The number of prison officers in Wales has been cut by 37% in less than four years, a prison charity has said.
Officer numbers have fallen from 505 to 320, which the Howard League for Penal Reform said had coincided with a rise in overcrowding and an "alarming" rise in prisoners killing themselves.
Cardiff prison has seen the largest percentage drop, with a loss of 107 officers between 2010 and 2014.
The Ministry of Justice accused the league of "misleading the public".
The Howard League's research looked at publicly run prisons, which does not include Parc Prison in Bridgend.
Across the UK, 24,000 officer posts have been lost since August 2010.
Public prisons in Wales
The league said there had been a series of reports by Her Majesty's Inspectorate of Prisons which highlighted the "damaging impact" of staff cuts.
Frances Crook, chief executive of the league, said: "The prison system is in crisis, and these figures reveal why. While the prison population has grown, officer numbers have been cut without any thought for the consequences.
"A shortage of governors makes matters even worse, because officers are being taken off the wings and asked to 'act up' to fill vacancies.
"Having made prison officers redundant, the Ministry of Justice is now apparently struggling to recruit. These are desperate times, and ministers are resorting to desperate measures."
'Well-run'
However, the UK government completely rejected the findings put forward by the league.
"It's beyond me why the Howard League for Penal Reform go out of their way to deliberately mislead the public on the state of our prisons," said the Prisons Minister Andrew Selous.
"They are less overcrowded than they have been for a decade and they are well-run, due to the dedication of the hard-working staff in them. Consistently trying to claim otherwise helps no one.
"We are conducting an ongoing recruitment campaign and establishing a reserve force of staff who can be called on when needed."
His comments come as his department embarks on building the UK's largest prison in Wrexham.
The new £250m "super prison" will hold 2,000 inmates when it is completed.