'Dismay' at further Arts Council of Wales budget cut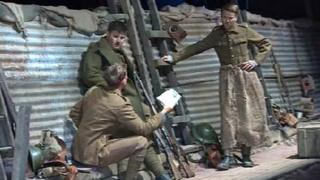 A further £300,000 cut in funding has left the Arts Council of Wales (ACW) "dismayed" and warning groups not to rely on its grants.
It said the likes of the Welsh National Opera and National Theatre Wales will still get their money this year but they would need to rely more heavily on income generation in the future.
ACW chair Prof Dai Smith said next year presents "more of a challenge".
The Welsh government described the mid-year cut as a difficult decision.
It informed ACW in August it would face an additional reduction in its 2014/15 budget, taking it down to just under £33m.
ACW met to discuss its options and Prof Smith wrote to arts organisations on Monday.
"Council was, of course, dismayed that the Arts Council's funding this year is reduced by a further £300,000," said Prof Smith in his letter.
'Unprecedented cuts'
He said they were also mindful of the potential problems it could cause with planned programmes already committed.
Although ACW will try to absorb the reduction, he warned next year it would be difficult to avoid passing on "all or some" of the cut.
ACW distributes annual grants to 69 organisations including Welsh National Opera, National Theatre Wales and Ballet Cymru.
It also allocates lottery funding to the arts sector for specific projects.
Prof Smith warned both ACW and arts organisations would need to rely more heavily on income generation and diversification against the backdrop of further public funding cuts.
ACW will carry out a review in 2015 to consider which organisations it funds and how much money they receive.
Further details will be announced after its next meeting in December.
But the last review in 2010 saw some arts organisations lose much of their funding, while others - like Gwent Theatre - closed completely.
A Welsh government spokesperson said: "This difficult decision reflects the overall challenge of our budget position as the result of unprecedented cuts by the UK government - with our budget £1.5bn lower in real terms in 2015-16 than in 2010-11."
"We appreciate the difficulty of making budget adjustments in-year and we have been monitoring spend across all areas, but reprioritisations are needed to meet increasing pressures across government."