Are smart meters the smart future for energy customers?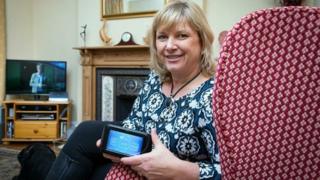 From next autumn it will be mandatory for all energy companies to offer customers smart meters as part of an £11bn roll-out.
BBC Radio Wales' Eye On Wales has been looking at whether they can help householders save money on their gas and electricity bills.
How do they work and do I have to have one?
If you choose smart meters, they will replace existing gas and electricity meters and will record exactly how much energy you use.
That information is then sent to the supplier and to a separate display monitor which will allow people to monitor their usage.
Although it will be mandatory for companies to offer them, it won't be compulsory for customers to accept.
Do you save money? The customer
Deborah Auton, who lives with her husband and two children in Cardiff, has already had her meters changed by British Gas, which is currently the only supplier installing them in Wales.
"Although we're very conscientious about recycling and not wasting things, I realised we had no idea about where our energy was coming from and how much was being used. We just took it for granted," she said.
"So I thought it would be a really good way of finding out how much things cost and if we could improve our energy consumption."
Deborah says the changes her family have made have reduced their gas and electricity bill for October by half.
"It's obviously a big difference," she said. "At the moment we think it's because we haven't really started putting the heating on yet so we're going to have a look and see how that pans out over the next month."
Do you save money? The energy company
Lynda Campbell, regional director for British Gas, said smart technology will make it easier for customers to manage bills because they will no longer be estimated. And it will be easier to switch suppliers.
"Customers can spread their payments in exactly the same way as they do now," she said. "The readings come through on a half hourly basis so it's accurate and therefore accurate when we bill the customer.
"The smart meters we're using are compatible with industry regulations.
"Before the roll-out gets underway in 2015 if you have a smart meter with British Gas and you change to a company that doesn't offer the smart meter service it will just operate as a normal meter. After 2015 it will be even easier."
How much will they cost me?
Sacha Deshmukh is the chief executive of Smart Energy GB - the organisation set up to convince people to make the switch.
It is hoped all households and small businesses in the UK will have smart meters installed by 2020.
"A smart meter replaces old fashioned meters and makes sure you're getting accurate information about what you're spending and it's the kind of technology that provides a platform for the future when we're going to have smart appliances in our home that need to work with a digital system."
Each smart meter costs £200 and although there will be no upfront cost to have smart meters installed, customers will pay for them through their bills, as they do with their existing meters.
What's the evidence they can help?
In September, the Public Accounts Committee criticised the cost of the programme given the average saving for a typical dual fuel bill has been estimated at just £26 a year.
The smart meters themselves won't save energy but it's hoped they will give customers the information they need to make changes that will.
Mike Mitcham, from Stop Smart Meters UK, is sceptical it will change people's habits in the long-term.
"We have evidence of pilot projects around the world that show zero statistical savings after the honeymoon period is over. People check the meters and then a few weeks later consign them to the drawer."
You can hear more about the smart meter rollout on the Eye on Wales programme, BBC Radio Wales, on Sunday 9 November, 12:30 GMT.