Community energy Ynni'r Fro scheme 'waste of money'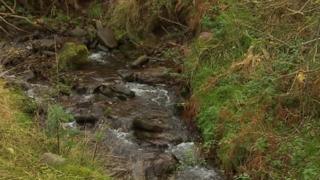 A scheme to help community groups generate renewable energy has been criticised over revelations that only one of its 102 projects has started producing electricity.
Ynni'r Fro has spent £2.4m of public funds since launching in 2010.
It gives preparatory grants of up to £30,000 and grants or loans of up to £300,000 towards installation costs.
The Welsh government defended the scheme as helping communities "take control of their energy needs".
Viability
However the Conservatives called the scheme a "waste of money".
There are currently 56 Ynni'r Fro projects receiving "in depth" support, but only one has so far made it to the stage where it is generating power.
That scheme is a hydro turbine set up by a community trust in Penllergaer, near Swansea.
The Welsh government had hoped 22 of the projects would be completed by March 2015.
It now predicts only five projects will be finished by then, but hopes all 56 will be completed by 2018.
But an independent evaluation of Ynni'r Fro, published earlier this year, raised several questions about the viability of its projects.
The consultancy firm Brook Lyndhurst said: "At the time of this research, groups had not generally progressed as far as the construction phase of their project but several expressed concerns about their ability to access capital funding when they did."
High hopes
Gil Chambers is part of a group that has received Ynni'r Fro help to install a turbine in a stream in the Dyffryn Crawnon valley near Llangynidr, Powys.
They are hoping to start generating power in January.
"It's just a brilliant way of generating electricity," he said.
"It's completely renewable and I dread to use the word sustainable - because I battle against it with planning departments all the time - but it is I would say totally sustainable.
"The potential for Wales is colossal - lots of hills and lots of rain".
'Wading through treacle'
The Conservatives' shadow environment minister Antoinette Sandbach said the scheme had been "hugely disappointing".
"I think it's been a massive waste of money," she said.
"We've seen enormous sums being spent on the Ynni'r Fro programme without delivering the kind of results that were promised by the Welsh government."
However, Chris Blake, a consultant who has worked with several Ynni'r Fro projects, said it was too early to judge the scheme.
"It's been like wading through treacle sometimes trying to get all of the permissions and licences together," said Mr Blake.
"But we are getting there and they will be delivered."
A Welsh government spokesperson said: "We make no apology for helping communities take control of their energy needs.
"We are encouraging local decision makers to also play their part in supporting hard working and forward thinking communities to succeed."