Winter deaths in Wales are lowest since records began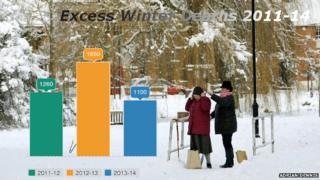 Winter deaths in Wales are at a record low, according to figures from the Office for National Statistics (ONS).
An estimated 1,100 "excess" winter deaths were recorded for 2013-14, 750 fewer than the year before.
Excess winter deaths are determined when the number of deaths in winter months - December to March - are compared to the averages for spring, summer and autumn.
Any deaths above the average are classed as excess winter deaths.
The figures are the lowest number on record since records first began being taken in 1950.
The ONS said a sustained period of milder than average weather could have contributed to the low figures.
Age Cymru's Graeme Francis said: "It is good news that fewer older people died from preventable causes last winter.
"But let's not forget that last winter was a mild one and there were still 1,000 excess winter deaths of people aged 65 and over so we must not become complacent about the problem."