Welsh councils say mergers need 'shared vision'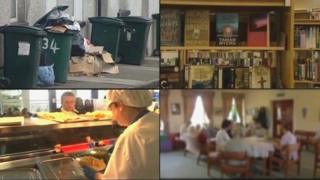 Local councils facing mergers have called for a "shared vision" with Welsh ministers on how to re-draw the map.
The deadline for voluntary mergers passed at midnight with only six of the 22 councils naming preferred partners.
Others say they need more time and are asking if the initial target of 10 to 12 councils has been cut again to six.
Council leaders are also asking who will foot the bill for reorganisation, which an accountants' report said could be as much as £268m.
Efficiency drive
In January, the Williams Commission recommended the 22 councils - last reorganised two decades ago - be cut to as few as 10.
But Public Services Minister Leighton Andrews has suggested there could be as few as six.
Supporters of mergers claim it will make local government more effective and efficient.
So far, six councils have agreed to work together:
Conwy and Denbighshire
Vale of Glamorgan and Bridgend
Blaenau Gwent and Torfaen
Meeting ahead of the Friday deadline for voluntary mergers, the Welsh Local Government Association (WLGA) said several issues needed resolving before other councils were willing to commit themselves:
Ministers and councils should agree a "shared vision" on the future role of local government
Clarity needed on the target number of local authorities to be created from mergers
Who will pay the costs of reorganisation
How the public and council workers will be involved in the debate
'Lasting outcome'
WLGA leader Bob Wellington, who also leads Torfaen council, said: "The whole debate on the future of local government in Wales needs to move forward on the principle of open, constructive and respectful engagement.
"We need a settled and lasting outcome that provides a structure fit for purpose now and into the future," he added.
The Williams Commission estimated the shake-up could save £60m to £80m per year after an upfront £100m cost.
But an accountants' report for the WLGA said the intial cost could reach £268m.
The Welsh government has said it will respond to the suggested mergers on 5 January.
Analysis by Vaughan Roderick, Welsh Affairs editor
Welsh local government did not change very much for 100 years from the Victorian era.
Then in the early 1970s we created the councils people might remember - places like Clwyd, Dyfed, Gwent and so on - and beneath them a plethora of district councils.
That was reduced to 22 unitary councils in the 1990s - these are the ones we have got now, but people felt even then that some of these councils were very small.
The classic example was Merthyr, which got its independence almost on a whim by the then Welsh Secretary David Hunt, simply because of the sentiment that it had always been a county borough. It is not even the size of a parliamentary constituency, and it is very difficult to deliver services at that sort of level.
It is a pretty poor take-up so far of the voluntary mergers the Welsh government wants to see.
The problem is there is no mandate for the government to enforce change.
There was nothing in the Labour manifesto last time around, so really anything that does not go on voluntarily will have to wait until after the assembly election in 2016.