Cardiff University-trialled leukaemia drug NHS approved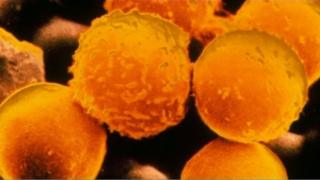 A U-turn by health watchdogs means leukaemia patients in Wales and England will get NHS access to a new cancer drug trialled in Cardiff.
Those with the most common form of the blood cancer - Chronic lymphocytic leukaemia (CLL) - will now be able to have access to the drug Gazyvaro.
Cardiff University trials showed it can reduce the risk of death by 59% by preventing cancer cells multiplying.
Officials initially rejected the use of the drug two months ago.
The National Institute for Health and Care Excellence (Nice) has now provisionally approved the medicine following further analysis and the cost of the medicine being cut.
'Survival benefits'
CLL affects 3,000 people in Wales and 20,000 in the UK.
"Nice's reversal on access to Gazyvaro means that clinicians will have an important new treatment option to help fight this common form of blood cancer," said Prof Chris Fegan, who led the trials at Cardiff University.
"Many patients with CLL often suffer from other medical conditions such as diabetes and heart disease, making them unsuitable for more aggressive treatments.
"Gazyvaro is a tolerable option that can not only keep these patients in remission for significantly longer, but offers a survival benefit over the current standard.
"The fact that patients across England and Wales will soon be able to routinely access Gazyvaro via the NHS will be welcome news to all those involved."
CLL facts
Chronic lymphocytic leukaemia (CLL) is the most common type of adult leukaemia in the western world
Around 3,100 people are diagnosed with CLL in the UK each year
CLL occurs most often in people over the age of 60 and men are twice as likely to develop CLL as women
CLL is different from most cancers because it is not usually possible to cure and is a very slowly developing disease