£800,000 awarded to develop and promote Welsh language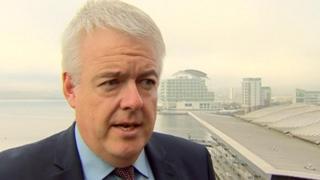 More than £800,000 has been awarded to develop new learning centres to promote the use of the Welsh language.
First Minister Carwyn Jones will announce on Wednesday the projects set to receive funding during 2014-15.
The grants are part of the Capital Investment Fund announced at the National Eisteddfod this year.
The first minister said: "The projects will create learning centres and become focal points in our communities for the language for people of all ages."
In August the first minister announced £1.25m for Welsh language centres.
Projects which have received funding
Ynys Mon Council (£138,723) to develop the county's Welsh language latecomers' immersion centres
Trinity-St David's University (£300,000) to purchase a building in Carmarthen town centre to be converted into a multi-purpose Welsh Language Centre
Carmarthenshire Council (£70,000) to work with third sector partners to develop a multi-purpose Welsh language centre in Llanelli
Coleg Cambria (£300,000) to develop a Welsh Language Skills in the Workplace Centre in Wrexham town centre to provide Welsh language learning and networking opportunities for businesses.