'Brain drain' warning by NUS over £10k student loans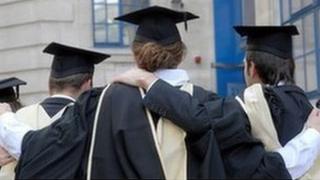 Wales faces a "brain drain" of its best postgraduate students if it does not match a £50m student loan pot for England, says a students' union.
National Union of Students (NUS) Wales said ministers need to find an equivalent to money unveiled in the Chancellor's autumn statement.
The fund allows postgraduate students to access loans of up to £10,000.
NUS Wales president Beth Button said: "It's time for the Welsh government to step up on postgraduate loans."
She added: "The danger is, Wales could suffer a brain drain of the brightest and best postgraduate students going to study at English universities with more generous funding support."
A Welsh government spokesman said it "will consider the detail and look at all the options" regarding the announcement for Student Finance England.
He said a major review into higher education (HE) and student finance in Wales - announced last year - was looking at student finance arrangements.