Veterans clean up 550 war graves in Change Step project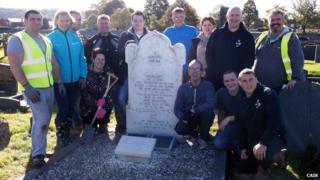 Armed forces veterans have cleaned up more than 550 war graves at 40 cemeteries across north Wales in a year which marked the centenary of World War One.
Colwyn Bay-based Change Step, which works with ex-armed forces personnel, hopes to extend the project into 2015.
Its Remember our Heroes project was set up to raise awareness about registered war graves in Wales.
So far, the volunteers have restored 552 out of 700 graves in north Wales.
Change Step has been led by Cais, a charity which helps people with addictions and mental health problems as well mentoring people and helping them to find employment.
Spokeswoman Kim Ferguson said the North Wales War Graves project had been particularly successful with volunteers keen to help.
"We are hoping it can carry on in some sense," she said.
Some cemeteries, such as Aberffraw (St Beuno) churchyard, Anglesey, has three WW1 graves, whereas Wrexham Cemetery has 154 graves to those who died in conflicts including WW1 and WW2.
The group worked with the Commonwealth War Graves Commission (CWGC) to identify the graves in Anglesey, Gwynedd, Conwy, Denbighshire, Flintshire and Wrexham.
It then received support from local churches to pinpoint the graves so work to clear overgrowth and revive memorial stones could be carried out.
The work is due to continue until March but officials hope it can carry on into the future.
Last year, the CWGC announced it was placing signs at 1,145 cemeteries and churches to highlight memorials to soldiers killed in WW1 and WW2.