Review 2014: NHS turbulence continues in Wales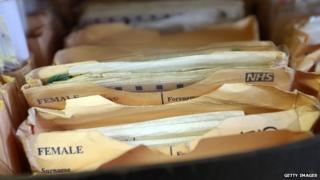 Each year, all BBC Wales' correspondents are asked to review the main stories we've covered during the past 12 months.
This is how I summed up last year: "It is fair to say that 2013 has been one of the most difficult and turbulent years in the our health service's history."
At the risk of repetition - I think the same could be said about 2014.
Why is it more of the same?
Once again the Welsh NHS is under intense pressure: financial constraints continue to be acute and many targets missed throughout the year.
Demand continues to rise, there are shortages of staff in certain areas, and more concerns have emerged about quality and safety.
In addition the performance has been under intense scrutiny - with a fierce political row raging between the Welsh government and the UK government at Westminster.
Performance
In 2014 the debate about the state of the Welsh NHS was particularly fierce - rarely a week passed without reference to missed Welsh health targets in Prime Minister's Questions.
The Daily Mail echoed the criticisms, in a week-long series of reports in October.
The Welsh government issued what it called a detailed rebuttal - and Health Minister Mark Drakeford took to the airwaves to defend his government's record.
But who's right?
Earlier in the year - on the same day as the prime minister launched his strongest worded attack to date, the Nuffield Trust published its own assessment, comparing performance across the four nations in the UK.
So in an attempt to be objective, I think it would be difficult for anybody to argue - on certain measures such as ambulance response times and waiting times for operations along for diagnostic tests and therapies there does appear to be a performance gap - despite difficulties in comparing the data
However the Welsh government, generally speaking, argues it's performing better on measures, such as waiting times for cancer treatments and progress on reducing delays in transferring patients from hospital.
But the health minister argues some of the current targets, while reflecting speed, do not reflect quality of care or the results. Consequently Mr Drakeford announced that new Welsh cancer and urgent care targets will be developed that will be to be measured (for the time being at least) alongside the usual indicators.
Safety and quality
Again this year concerns emerged about about standards of care and patient safety.
Abertawe Bro Morgannwg Health Board (ABM) along with the health minister apologised after an independent investigation found "unacceptable failings" in care, particularly of elderly patients at the Princess of Wales Hospital in Bridgend and at Neath Port Talbot hospital.
ABM says lessons have been learnt and improvements made.
Subsequent spot-checks of all large Welsh hospitals did some failings in procedures for giving medicines - but concluded hospitals were generally performing better on sedation, continence care and ensuring patients have enough to drink.
Three nurses admitted multiple charges of wilful neglect at the Princess of Wales Hospital in Bridgend. Meanwhile, two other nurses denied similar charges. Their trial is due to begin next Easter.
And North Wales Police are continuing to investigate what the local health board has described "deeply disturbing" allegations concerning patient care at a mental health ward at Ysbyty Glan Clwyd.
But the Welsh government says most patient in Wales are happy with the care they receive. The health minister also said the NHS has enough safeguards in place to give an an early warning when things go wrong - although others continue to call for an wide-ranging independent inquiry.
Finances
Again it has been a tough financial year for NHS - with health boards needing make deep cuts to their budgets. For the first time since they were formed - three health boards failed to balance the books at the end of the financial year.
Independent research by Nuffield Trust, subsequently outlined the scale of the financial challenge.
In response the Welsh government gave the NHS £200m to spend this year, but in doing so diverted money from other departments.
The Auditor General for Wales called for an urgent and far-reaching debate on how much the Welsh government could afford to spend on the NHS.
Pressures
As another year draws to a close - the spotlight inevitably turns to winter pressures, and the ability of the Welsh NHS to respond. It's clear services are being stretched.
According to the Welsh government, the NHS is well-prepared, yet it claims patients have a responsibility not to mis-use emergency services.
But in reality, it is too early yet to judge. I'm told the pressures will be at their peak, in January and February - just when politicians will begin to prepare for the UK general election campaign.
So if you think the political arguments about the state of the Welsh NHS have been intense in 2014, just wait until 2015.