Stephen Crabb backs collaboration to grow Wales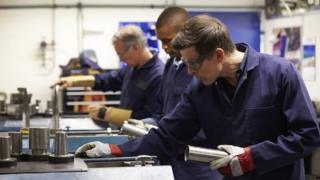 Welsh secretary Stephen Crabb has set out his party's economic plans to an audience of business people in Cardiff.
While on health the UK and Welsh governments may be fighting head to head, on the economy Mr Crabb took a slightly more collaborative approach
He said both governments worked to deliver electrification of the Swansea-Paddington and Valleys rail lines.
They also stood "shoulder to shoulder" to sell Wales to the world at the UK Investment Summit in November.
Mr Crabb added that Wales needed both governments "working together".
The harsh reality is that both governments can influence the Welsh economy and neither can be solely responsible for whether the economy grows or falters.
But that is where the partnership approach ended.
Mr Crabb claimed there are 26,000 more businesses in Wales than when the coalition government took over in Westminster and he said there are 100,000 extra private sector jobs than four years ago.
So how has employment changed in Wales since 2010?
The numbers of jobs
In 2010 there were just over 1.3 million people working in Wales.
The latest Office for National Statistics (ONS) figures released in December showed that between August and October 2014, 1,365,000 were working in Wales.
That's 64,000 more than in 2010.
Mr Crabb says that the majority of the new jobs created in Wales have been full time.
That is correct, but if you look deep inside the latest Labour Force figures for June 2014, 24,000 people had been taken on to new jobs compared to the year earlier - and of those, one quarter (or 6,000) were a second job and a quarter (6,000) were temporary jobs.
Latest figures for December show there were 41,000 fewer jobs in Wales than 12 months earlier, according to the ONS.
The types of jobs
It is interesting too looking at the different sectors of the economy.
A 9% growth in people working in manufacturing is very significant for us because in Wales that's an important area.
A 10% increase in finance and insurance jobs is interesting too.
There has also been 3% growth in jobs in the public sector in Wales between 2010 and 2013.
When you look more closely, there has been a fall in employment in local and central government of 3%. But that is mitigated by a 7% increase in jobs in education.
Case study - finding a job
One of those who has gone back to work in 2014 is Joanne Jones, from Nantyglo, Blaenau Gwent.
She was unemployed for around nine years while she brought up her children but has now found a permanent job as a receptionist with a housing association after joining a job club and a work placement.
Were the economics of the 2000s bad for Wales?
Mr Crabb was most critical of the last Labour government for the type of economy it had encouraged - based on the growth of City of London and financial services.
He said "we lived under an illusion of growth and economic success" while he says Wales lost out and became poorer.
Economy and 'social renewal'
The Welsh secretary said economic health was "the path to social renewal" which included fewer workless households for children.
He said his government's cuts in corporation tax, reduction in National Insurance contributions for employers and introduction of Employment Allowances were helping businesses grow.