Hairdresser register call by Nia Griffith MP rejected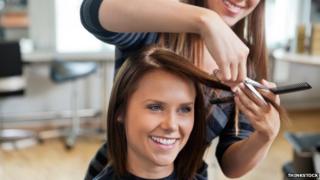 Calls for hairdressers to be put on a compulsory state register to protect people from "unscrupulous" and "incompetent" traders have been rejected by the UK government.
Llanelli MP Nia Griffith raised the issue in a parliamentary debate on Wednesday.
She said she was "quite shocked" hairdressers do not need any qualifications.
But ministers said a register would cost the industry £75m.
It is currently voluntary to belong to the UK register of qualified hairdressers.
"Of course the majority of hairdressers have appropriate qualifications, work to a high standard and take great care of their customers," the Labour MP argued.
"However, at the moment there is nothing to protect the consumer from the unscrupulous or the incompetent."
But Works and Pensions Minister Mark Harper said the move could not guarantee the quality of hairdressers - and that those who were poor at the job went out of business very quickly.
---
Top ten things that can go wrong
Burns: Improper use of bleaches can burn the scalp
Shock: The chemical Phenylenediamine in permanent dye can trigger anaphylactic shock
Loss: Too much bleach can cause hair to fall out
Breaks: Certain priming fluids used inappropriately can break hair
Trauma: Having a bad hair cut can cause trauma and stress
Cuts: Dirty scissors or razors can cause infections
Dye: Once a hair dye has gone wrong, inexperienced hairdressers will keep on dying the hair which makes it worse
Extensions: Bad ones can pull hair out
Testing: Patch testing should be done 48 hours before any chemicals are used to test for allergies - most do not
Accidents: No formal training is required to be a hairdresser
Source: The Hairdressing Council