Wales and Waterloo: Napoleonic tales among archive cache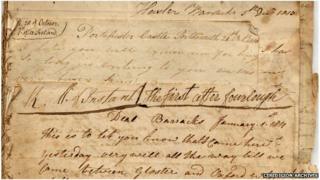 A letter marking the Battle of Waterloo is among important Welsh archives being preserved with the help of £40,000.
Written by the son of a Cardiganshire farmer, Morris Williams tells his parents "thank the Lord" for protecting him as he faced Napoleon's troops.
The letter held by the Ceredigion Archives is undergoing careful conservation work, along with documents from four other Welsh archives.
Other items include mining union records and arts and crafts drawings.
The conservation projects have been funded in a partnership between the Welsh government and the National Manuscripts Conservation Trust (NMCT).
The Williams's letter home stating "I am hapy to inform you that Boneparte ls defeted" is one of the documents found in two books from four members of the same family in the first quarter of the 19th century.
Ceredigion county archivist, Helen Palmer, said the grant from NMCT gave the archives a timely opportunity to preserve the historic documents.
"As a result the public will have the opportunity to read first-hand accounts of the Battle of Waterloo, and get a real feel for the local impact of international events at that momentous time," she said.
The funds will also be used to conserve documents at four other Welsh archives:
Glamorgan Archives: Mouse's Survey of Manors in Glamorgan 1622 - the earliest surviving estate survey maps in Wales
Gwynedd Archives: Reginald Hallward Design Collection - 41 drawings, sketches and tracings of works designed and created by the artist Reginald Hallward, an important figure in the arts and crafts movement during the first half of the 20th Century
Powys Archives: Welshpool Dispensary Minute Books - minutes books showing who was treated by the pharmacy that provided care for the poor, long before a National Health Service
Richard Burton Archives: Early records of the South Wales Miners' Federation, from 1899 to 1934, covering World War One, the 1926 General Strike and Lockout, and the Great Depression of the 1930s.