Driving licence Welsh flag choice rejected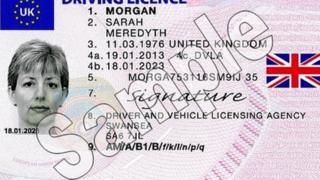 Calls to offer motorists the option of a Welsh flag on driving licences have been rejected by the UK government.
The Department for Transport considered offering a choice of national flags but said the expense would be "excessive".
Instead, the Union flag will be added to licences - at a cost of £188,000.
Wales Office Minister Alun Cairns said it would "strengthen the UK's sense of national identity" but the Plaid Cymru MP Hywel Williams said he was disappointed.
Confirmation of the decision came in response to questions tabled by Mr Williams.
Bilingual
Mr Cairns stressed that the Wales Office did ask the Department for Transport to give "due consideration" to the issue of a choice of flags.
"This work showed that the cost of offering a choice of national flags was excessive," he said.
"We were keen to ensure that costs were kept to a minimum.
"The inclusion of the Union flag has no effect on the availability of bilingual driving licences," he added.
The flag will be added to driving licences - which already feature the European Union flag - issued later in 2015.
'Absurd' decision
Mr Williams, MP for Arfon, vowed to continue supporting a petition calling for a Welsh flag option.
He said: "Many people will share my disappointment at the UK government's confirmation that they will deny people the choice of which flag appears on their driving licence.
"The claim that expense is the rationale behind this decision is absurd."
Ministers in Northern Ireland have decided not to add the Union flag on licences there because of the "particular sensitivity" surrounding such symbols in the region.