Tsunami relief concert was "drawn up on a beer mat"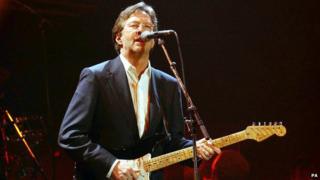 It was the concert which became a focus for the UK's fundraising efforts after the Indian Ocean tsunami, but the plan for the event was drawn up on the back of a beer mat.
Eric Clapton, Manic Street Preachers, Keane and Snow Patrol were among the 20 acts who eventually performed at the gig on 22 January 2005, which was attended by 66,000 people and raised £1.25m for victims of the disaster.
At the time it was the biggest charity concert held in the UK since Live Aid nearly 20 years earlier.
A decade since the concert at the Millennium Stadium Paul Sergeant - who came up with the idea - has revealed it very nearly didn't get off the ground, and was minutes from being cancelled two weeks before.
Mr Sergeant - then general manager of the stadium - said he decided to "do something" after becoming frustrated at the scenes of devastation from Indonesia, Sri Lanka, India, and Thailand after the tsunami on Boxing Day 2004.
"There was a massive amount of media coverage about the devastation," said Mr Sergeant.
"I was sat at home thinking can we actually do something to help? And when I say can we, that meant me."
He enlisted the help of Pablo Janczur, now director of Brecon Jazz festival, in a bar in Cardiff on 30 December.
"Pablo thought I was nuts, but was up for it," said Mr Sergeant. "We did a draft budget on the back of some beer mats and came up with an estimate of £50,000 costs.
"We knew we had just three weeks to organise it and thought we needed a big name to make quick progress. I had become pretty close to the Beckhams, so on New Years Eve I rang and spoke to Victoria's mum Jackie to see if Victoria would be willing to help out.
"Jackie phoned me back later that afternoon and said that although Victoria would love to do it, she couldn't because she was eight months pregnant."
---
Devastation caused by the waves
The Indian Ocean tsunami on 24 December 2004 killed more than 230,000 people in huge waves caused by a massive underwater earthquake.
It was one of the deadliest natural disasters in recorded history.
The victims were from around the world, and desperate friends and family posted appeals online to try and find their loved ones.
The death toll rose rapidly, with people killed in 11 countries.
---
Frustrated with the progress they were making Mr Sergeant eventually leaked the prospect of a concert to the media to see how much interest there was. The response was huge.
But by January 7 there was still no A-list artist for the line-up, although Welsh band Goldie Lookin Chain and opera singer Katherine Jenkins had agreed to perform.
"We knew if we were going to get to have any real opportunity to raise funds we needed an A-lister," said Mr Sergeant.
"Then I got a call from South Wales Police saying they couldn't support the concert anymore because they had a statutory requirement to give police officers a two week warning if they were going to cancel holidays and roster additional days.
"This was at 1pm. They said we had until 3pm to let us know if it was going ahead or not.
"We got back on the phones. Then, literally at 2.53pm, Eric Clapton's manager called and said he would do the show.
"The confirmation fax came through at 2.58pm, I picked up the phone and called South Wales Police to say the show was on."
Although only five acts had been confirmed when the tickets went on sale the next day, 21,000 were bought within the first hour and the event was a sell-out in three days.
"Normally this kind of thing would take months to organise, and I was making it up as I went along," said Mr Sergeant.
"But everyone was just so helpful. I was just stunned, as Keane, who were recording in Spain, all flew themselves over on a budget airline and slept in their car overnight before the concert as they didn't want to incur any hotel costs.
"In the end we had to turn away acts including Duran Duran and Genesis. We could only fit so many people in and we couldn't turn down the people who had committed to the concert already."
The money raised by the concert, which was televised on the BBC, went to the Disasters Emergency Committee.
"I would do it in the blink of an eye again," said Mr Sergeant. "It was the most difficult and easy thing I've ever been involved in organising. Difficult because of the timescale, easy because everyone was so willing to help."
---
Line-up included
Badly Drawn Boy
Charlotte Church
Craig David
Embrace
Eric Clapton
Feeder
Jools Holland
Katherine Jenkins
Keane
Kelly Jones
Lulu
Liberty X
Manic Street Preachers
Snow Patrol