One in hospital after three-vehicle A470 crash in Merthyr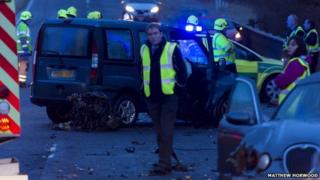 One person has been taken to hospital and two others were injured following a crash in icy conditions which closed the A470 in Merthyr.
Friday morning's incident near the A465 Heads of the Valleys road involved three vehicles.
A separate collision happened on the A470 northbound near Brecon.
Elsewhere, there were also reports of accidents on the A55 in Flintshire, while ice briefly shut the exit at J32 at Halkyn.
In Pembrokeshire, the A4075 between the Yerbeston and and Canaston Bridge roundabout was shut after a car overturned but it has since re-opened.
And on the M4 in Bridgend, a car driving the wrong way was believed to have been involved in two crashes.
All roads have now reopened.