Organ opt-out law campaign targets workplaces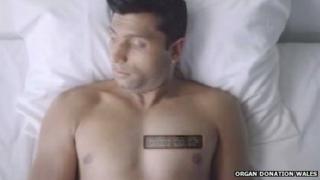 A new advertising campaign has been launched, aimed at raising awareness of the changes to the law over organ donation later this year.
Wales will become the first UK nation to introduce soft opt-out legislation on organ donation on 1 December.
It means everyone is regarded as a willing donor when they die unless they say otherwise.
As well as "Time to Talk" adverts on radio and online, information displays will target workplaces.
This will include leaflets, posters and information stands at large private, public and voluntary sector employers.
Wales' largest building society, the Principality, is one of the first organisations to sign up in support of the campaign and will be working with the Welsh government to provide information to its 1,000 employees over the coming months.
Its spokeswoman Hannah Poulton said: "The workplace is where a lot of conversations take place and whatever their views, Principality employees need to be aware of the organ donation choices available to them before the law comes into force."
Organ Donation Wales has said its most recent survey showed 62% of the public is aware of the changes.