Ice yellow weather warning for Wales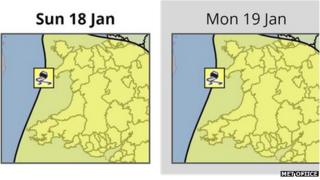 A yellow 'be aware' weather warning for widespread ice has been issued by forecasters for the whole of Wales.
Temperatures are expected to drop to about -6C in some parts of Wales, with a hard frost and freezing fog patches in places.
The Met Office said wintry showers are likely to freeze on untreated roads, and could make driving conditions hazardous.
The weather warning is in force from 17:00 GMT on Sunday until 10:00 Monday.