Struggling families helped by £6.9m Flying Start cash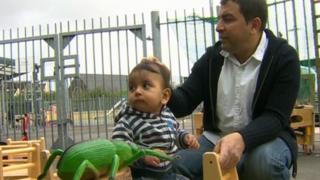 More families in the poorest areas of Wales will be offered help with £6.9m investment in support centres.
The money for Flying Start includes new childcare facilities in Abertillery, Blackwood and Carmarthenshire.
Communities and Tackling Poverty Minister Lesley Griffiths said the aim was to double the number of children supported to 36,000 by 2016.
"The huge impact the programme is having on people's lives is clear to see," she said.
Flying Start offers free childcare for two to three year olds, health advice and other support for parents in some of the poorest areas of Wales.
The new money includes cash to improve existing Flying Start centres across Wales.
It was announced on Monday ahead of an awards ceremony in Cardiff to honour Flying Start staff nominated by parents and carers for making a difference.
The investment comes as the Joseph Rowntree Foundation warned that many families with children across the UK were struggling to make ends meet, with Wales one of the worst affected areas.