Smart phones for Dyfed-Powys Police officers on the beat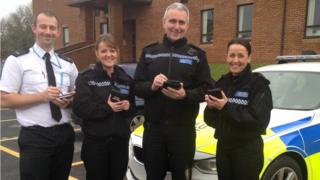 About 650 police officers in Dyfed-Powys Police are to be given smart phones so they can carry out their paperwork while out on patrol.
The devices will replace traditional pocket notebooks and will help officers record crime and road collisions, along with doing police checks.
The force said it meant police could be out on the streets more.
It is hoped the phones' use will be extended in the future to help find missing people and deal with crime.
PC Ben Ashton, a roads policing officer in Carmarthenshire and mobile digital policing trainer, said the new devices were "changing the way frontline police officers conduct their business".
"Everything can be done while we are out and about allowing us to provide a much more visible policing presence on the streets," he added.
The phones will be given to the first 500 officers now, with the next 150 in April.
It is part of the force's strategy to be completely digital by 2016.