Extra £11m for ambulance service in Wales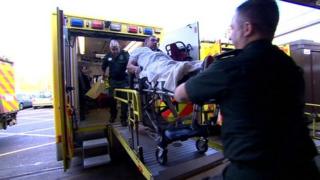 The ambulance service in Wales will get an extra £11m in funding to improve response times and treatment.
About £8m will come from the extra £40m being given to help the Welsh NHS cope with winter pressures.
The other £3m will pay for 17 new ambulances to add to the fleet of 243.
Health Minister Mark Drakeford said the money was aimed at ensuring the ambulance service was in "a better position to provide a swift response to life-threatening calls across Wales".
Stephen Harrhy, the new chief ambulance services commissioner for Wales, added: "Immediate action will be taken which will not only help improve response times but, more importantly, deliver an improved clinical service."
Dyfed-Powys Police and Crime Commissioner Christopher Salmon has claimed that some of his officers have had to take patients to hospital because of a lack of ambulances.