Maths teachers' summit in Cardiff to tackle performance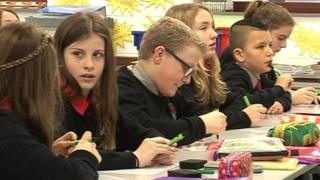 Maths teachers from across Wales have been brought together in a bid to improve pupil performance.
The Mathematics for Life conference is tackling what is seen as the weakest of the core subjects taught in Wales.
The education minister has announced a task force and wants an action plan in place by the summer.
Meanwhile, one maths expert said the weakest area is not numeracy but geometry, algebra and relating maths to practical applications like maps.
Hundreds of heads of department from secondary schools across Wales have gathered in Cardiff for a conference organised by the Welsh government.
They are looking at how to engage pupils in maths and how they can improve results.
In 2013, 52.8% of pupils in Wales achieved an A*-C grade in maths, but the figure dropped to 50.6% last year
The figure in England for the same results rose from 57.7% to 63%
It means that, in 2013, in those getting good grades, Wales was around 5% behind England. But by last year, that figure shot up to more than 12%
Over the past three years there has been a greater emphasis on literacy and numeracy in schools in Wales; both elements are weaved into every part of the curriculum.
That is, in part, a reaction to disappointing results in the international Pisa league tables, which tests 15-year-old pupils in maths, science and reading.
Wales performs worse than any other part of the UK, and maths is the worst of the three Pisa elements here.
Jenny Bradshaw, a senior Pisa manager, believes numeracy is not the main problem with maths in Wales.
"The weakest element in the result in Wales is what's referred to as 'space and shape' which covers things like geometry," she said.
"And it also is much wider than that into some elements of algebra; into the relationship of mathematics to things like perspective and maps and so on.
"So that's the weakest area in Wales. But numeracy may very well help with building up confidence overall."
WHERE IMPROVEMENTS ADD UP
Ysgol Gyfun Cwm Rhymni in Caerphilly has seen its maths GCSE results go from strength to strength.
Pupils here are placed into sets according to ability as soon as they start and there is a greater emphasis on stretching the most able pupils.
Maths teacher Scott Conway said: "We work very closely with our feeder schools, 11 of them across the county, to make sure that by the time they come to us in Year 7 that we know the ability of those pupils and what their strengths are and what they need to work on and target in order to improve."
MEETING OF 'MATHEMATICAL MINDS'
Education Minister Huw Lewis said progress in maths was not happening as fast as he wanted but it was something Wales as a nation "had to crack" for its economic future.
"I know that there are some great things going on in maths departments across Wales - I see and hear of them on a regular basis," he said.
"That's why I was so eager to arrange today's event - to bring together our brightest mathematical minds. I want them to share ideas and lift the lid off this expertise."
Michael Griffiths, former head of Cardiff High School will chair a task group with a view to having a maths action plan for Wales by the summer.
EVERY CHILD COUNTS
Targeting pupils before they arrive at secondary school is often seen as a better way of improving maths skills
Oldcastle Primary School in Bridgend has become the first in Wales to bring in an intensive programme to pupils from a cluster of schools who are struggling with maths
The results have brought 20 months progress over just three months on average
But Every Child Counts costs around £2,500 per pupil although head teacher Jeremy Thompson said despite the financial commitment, it was a good investment
The answer to the question is: (D) - 720. You can try more sample Pisa maths questions here.