More than 100 patients taken to A&E by police in December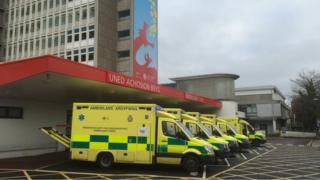 Patients had to be taken to accident and emergency by police in Wales more than 100 times last month, figures obtained by the BBC reveal.
Officers had to transport patients 115 times - the majority of trips taken because no ambulances were available.
Police vehicles are being increasingly used when ambulances are unavailable.
Dyfed-Powys Police and Crime Commissioner Christopher Salmon said: "This is a long-running problem that has got significantly worse."
"Longer waits at A&E are disastrous for the ambulance service in Wales and this is having a major impact on the police."
---
Number of occasions police took patients to A&E in December 2014
Gwent - 45
South Wales - 43
Dyfed Powys - 22
North Wales - 5
---
South Wales Police, North Wales Police and Dyfed-Powys Police say every time a police vehicle took a patient to casualty department in December it was because there was no ambulance available.
Gwent Police said a decision to convey might not always be down to a lack of ambulance.
South Wales Police and Crime Commissioner Alun Michael, said: "Increased demand on the ambulance service is putting pressure on a significantly reduced police service but in south Wales we are working with partners to help wherever we can."
It comes as the latest figures showing how many ambulances in Wales hit target response times for the most urgent calls are released.
In total, 76,889 people went to A&E in December, compared to 75,049 in December 2014.
The proportion of patients treated within four hours at Wales' major hospitals, where the majority of emergency cases are dealt with, was 77.2%. The target is 95%.