Lampeter eco business wins place at San Francisco trade mission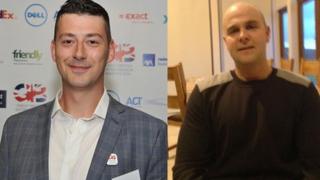 Friends who set up an business in Ceredigion which cuts vehicle pollution have just returned from the US after being shortlisted from 400 firms to pitch their system to investors.
Andy Ling, 30, and Luke Jones, 32, from Lampeter, have created a battery system to cuts vehicle fuel costs.
Mr Ling retrained as an electrician on renewable energy projects after serving in the Army's bomb disposal regiment.
Mr Jones is a wheelchair athlete who also runs a property company.
He ended up in a wheelchair after a car accident 13 years ago and used some of his compensation money in their business, Perpetual V2G, which won a place on a trade mission in San Francisco.
They are due to return in March when they hope to clinch some deals.
They have created a battery system which charges when a vehicle, such as a refrigerated truck, is being driven and its stored power can then be used when the engine is switched off.
They said they have secured a contract with Sainsbury's and the equipment will be used in a new fleet of vans for the supermarket chain.