Newport retailer JoJo Maman Bebe urges clothes recycling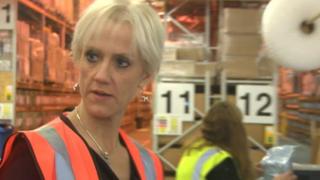 A businesswoman has launched a campaign to keep children's clothes out of landfill sites and given to deprived families instead.
Laura Tenison, the founder of Newport-based JoJo Maman Bebe, wants other retailers to join her.
She has linked up with charity Barnardos and green group Hubbub.
The idea behind A Mother To Another is that parents donate hand-me-downs which are then put together as complete outfits.
Barnados then donates them to parents in need.
Launched on Tuesday, parents can hand in clothes in good condition to any of JoJo Maman Bebe's 66 stores across the UK.
They are then put together and gift wrapped for children from vulnerable families.
The idea is similar to some schemes donating toys at Christmas.
Ms Tenison, originally from Pontypool, hopes in the six weeks before Mother's Day the initiative will gain momentum.
"It's about thinking of your children's favourite garments and how they could make a difference to some else," she said.
"We want good quality items you don't want to put in a black bin bag and if you haven't a friend to give to, perhaps give them to someone who is in a vulnerable situation, in need."
Ms Tenison said re-using clothes was also good for the environment and never worries about seeing her own firm's clothes re-sold on eBay.
Across the UK an estimated 1 million tonnes of textiles are thrown away every year according to the environmental charity Wrap.
That amounts to one third of UK clothing ending up in landfill, and therefore losing all its value.
Research for Marks and Spencer found 56% of parents throw baby clothes away with the rubbish.