Travel scare as roof ripped off London bus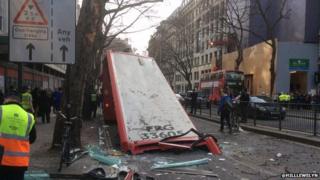 A north Wales man says he had a "near death" experience after the roof was ripped from a London bus.
Llewelyn Hill was on the top deck of the Trafalgar Square service when the incident happened on Monday.
He posted images of the aftermath on social media describing it as a "scary" experience.
London Ambulance Service said two people were taken to hospital with facial injuries, and two others were treated for minor injuries.
"I appear to be unscathed following my near death experience on London Bus 91. What an experience," said Mr Hill, on Twitter.
"I seem ok but there were a few who weren't quite so fortunate. Scary though."
He told the Evening Standard newspaper that he had been travelling from Euston to Holborn when the crash happened outside the London School of Economics at about 13:00 GMT.
"There was pandemonium on the top deck and I heard a few screams but other than that most people were checking everybody was OK," he added.