'If he runs, I will find him' - the fear behind loan sharks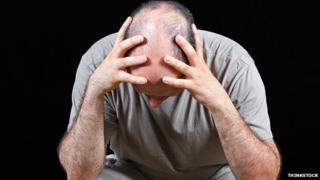 There are fears loan sharks will undergo a resurgence due to new regulations restricting payday money lenders. But what is it like to be reliant on loan sharks, and why do people turn to them in the first place? Taxi driver Andy* from Bridgend, south Wales, found himself paying back a loan at 50% interest after turning to a loan shark in desperation.
I first borrowed from Dan when I hadn't been able to work for a year as I had become ill. When I came back to work I was behind on a few things. I really needed some money to meet the rent that month, other taxi drivers had borrowed some money from him, who also drove taxis for the same firm, and so I asked to borrow £400 that first time. That was how it started.
He said you have got to pay me back £100 a week, plus 30% interest. He had a little book he kept in his taxi which he wrote it in, but there was nothing for me to sign or anything.
The arrangement was that I should pay him by midday every Monday. It didn't matter what day you borrowed it on - the first day for the first repayment was always the next Monday.
Let's just put it this way - everybody paid, nobody ever went over midday, otherwise you knew there was somebody he would phone to collect it for him.
'We couldn't buy food'
It was only because I had become ill and fallen behind on bills that I did it. It was that desperation - that feeling of what am I going to do otherwise.
I didn't tell my wife Kirsty to start with as I felt like I should be providing for her and my daughter, but it got to the weekend and I had to get the money somehow, so I had to tell her.
She screamed at me for it. It meant we couldn't buy food, it was that extreme. My daughter was only a year old at the time, but returning the money to Dan had to come first - I felt terrible.
It was tough times, £130 a week might not sound like much but when you're in that situation it is the difference between paying the bills or eating.
We paid it all back, but I didn't realise I had fallen into the hands of somebody who was going to take advantage, and he was always there offering.
I would go to him when I couldn't pay the rent, or had problems playing the bills. At the time we were in the middle of a recession and there were times when no-one wanted a taxi, so it was hard. When I borrowed from him he would ask me if I was sure I didn't want more, but I didn't.
I had to borrow from him another five times and was lent around £2,000 in total at either 30% or 50% interest.
'I will find him'
I felt terrible, each time Kirsty said she couldn't believe I had done it, and I felt I was not providing what I should have been. It caused problems between us as it put an awful lot of pressure on when we had to repay money, but I couldn't see any other way of paying the bills and providing for my family.
And the fear of what would happen if we didn't meet the repayments was immense. One Monday night someone came hammering on our door, and my immediate thought was that Dan had sent someone to collect early. In the end it was just someone knocking on the wrong door, but I've never forgotten that fear, the fear of what he was capable of if we were late with repayments.
Once he told a friend of mine he had seen my daughter in casualty. I was so worried, when I finally got hold of her she said she hadn't been in the hospital - it was just Dan being spiteful, it was all about control.
One bloke ran away as he was too scared and couldn't meet the repayments. I ran into Dan at a supermarket around the time this guy left and he said: "You tell him if he runs, I will find him and he will pay me."
He has never come back.
The last time I borrowed money was when I had just gotten divorced and was going through a tough time, I was desperate again. I needed insurance for the taxi and Dan heard about it and kept offering to lend me the money.
I said no to start with, but I was desperate again so gave in. But then, as he handed the money to me he said: "I don't know what to charge you this time, I think I'll charge you 50% rather than 30%."
The threat
That was it for me. He said he was helping his friends out, but he wasn't doing me a favour, he wasn't my friend.
In the end he upset somebody who he hadn't lent money to, and they reported him for illegal money lending. I would never have come forward to report him - I was too scared, and too focused on paying the bills.
When I was approached to act as a witness against him at court I initially said no, but in the end decided I should speak out. But all he got was a £10,000 fine, which to him is nothing - he's still driving taxis and I still see him around.
Now there is always that threat that somebody is going to pay me a visit, I never know who is going to get in my car, one day I believe it is going to happen.
There is no justice here, it is not about the money, he is still out there and still driving taxis.
*All names have been changed