Cardiff joins the big hitting cities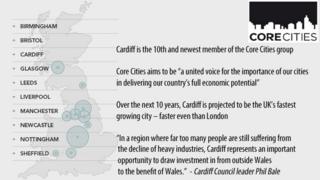 Not content with just being the capital of Wales, Cardiff has been flexing its muscles and teaming up with the UK's biggest hitting cities in recent months.
It has been looking to stand its corner on different fronts.
Today sees it joining with nine others pushing for more powers to help their city economies grow.
Cardiff last autumn became the newest member qualifying for the Core Cities Group.
Between them they contribute almost one quarter of the combined output of Wales, England and Scotland.
At a summit in Glasgow on Monday the group launched what it called a Modern Charter for a Freedom Charter - a Magna Carta for the urban giants - setting out what powers were needed to help local economies grow.
Cardiff, like cities including Manchester, Birmingham and Newcastle, called for more power to be passed down from Welsh, Scottish and UK governments to cities, with more control over some taxes.
They want cities to be able to keep more of the property and income taxes raised in their area.
How dynamic is Cardiff?
Population: 350,000
Growth: Projected 26% or 91,500 people in next 20 years (Fastest growing of Core Cities)
Generates: 21% of all goods and services in Wales (Welsh GVA )
Created: 38% new private sector jobs since 2009
Commuters: 80,000 people commute to Cardiff everyday (30% of the city's workforce)
Qualifications: 40% of its population has a degree
Quality of life: Rated no. 1 according to a survey looking at employment and disposable income
The charter comes less than a week after Cardiff joined Newport and Bristol under the banner Great Western Cities.
This is one of six "powerhouse super city regions," as described by the RSA City Growth Commission.
The aim is to market the area as a strong place to invest and do business. They also plan to work together to improve road and area links for their wider region.
As well as being members of those groups Cardiff is also at the heart of the Cardiff Capital City Region
So that's Cardiff represented in three relatively new groups - Cardiff Capital City Region; Core Cities Group; Great Western Cities.
All are arguing for more powers from government but as yet none of the groups have powers nor budgets.
Why is Cardiff doing this now?
It believes it is the engine driving the Welsh economy and should be recognised as such.
At the same time, the same council leadership is facing budget cuts and it believes that by joining others facing similar challenges it can attract investment.
Why does Cardiff need three bodies?
Council leader Phil Bale told me the three organisations complement each other but at the heart was working more closely with Welsh government and getting a better deal.
The Cardiff Capital City Region is an advisory body looking at a strategic issues like planning, economic development and transport.
However, the council itself is not a member at the moment.
Core Cities Group has more of a lobbying role. Great Western Cities is about driving more jobs and growth on a regional basis and trying to sell the whole area across the UK and internationally.