TV presenter Rhodri Owen in crash injury escape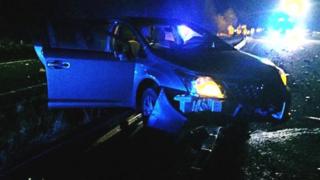 TV presenter Rhodri Owen escaped serious injury in a crash, his wife, BBC Wales presenter Lucy Owen said.
She tweeted a photo of a car wreck, saying her husband was "fine, just a bit shaken" after he was able to walk away from the scene.
South Wales Police said three cars were involved in Monday's incident on the A470 at Fidlas Elbow, Merthyr Tydfil.
A 38-year-old man from Mountain Ash has been charged with drink-driving.