Bath crash: Three Welsh men and girl, 4, killed in truck crash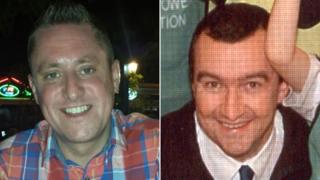 Three men from south Wales and a child died after a truck crashed into cars and pedestrians in Bath.
A 59-year-old man from Cwmbran, and two from Swansea aged 52 and 34 were among the dead, said South Wales Police.
Four-year-old Mitzi Rosanna Steady died and her grandmother was critically hurt as they walked along Lansdown Lane.
A Scania tipper truck struck the pair and several vehicles on a steep hill near a primary school just after 16:00 GMT on Monday.
It is understood the three men who died were travelling in a Volvo car at the time of the crash.
Two of the men who died have been named as chauffer Stephen Vaughan, 34, and businessman Phil Allen, 52, both from the Swansea area.
Mr Vaughan, known to friends as Stevie, was business manager of EliteXecutive Travel, based in Swansea, who was hired to collect the two other victims from Bath.
Mr Allen was resources and external affairs director for Cardiff-based electricity company Western Power. He was married with two children and lived in Loughor, Swansea
Mr Vaughan married fiancee Sian in Turkey last year and lived in Penyrheol, Swansea.
A friend, who did not want to be named, said: "Sian is totally and utterly devastated. They had not even been married for a year.
"Stevie was a dedicated husband and a successful businessman too. It was admirable how he built his business up and made a real go of it too."
The other businessman has not yet been named.
Following the crash, eyewitness Brian Fisher, who was working nearby told how he was one of the first to try to help the victims.
He said: "We rushed there and tried to do what we could, to lift bits of the car off and get them out, but you wouldn't recognise it as a car.
"I couldn't even tell you what make it was - the damage was that bad."
He described the scene as "carnage, absolute carnage".
Ch Insp Norman Pascal of Avon and Somerset Police said: "This is a tragic incident in which three men and a young girl have lost their lives and we're carrying out a full and meticulous investigation to find out what happened."
Mitzi's family released a short statement saying "Mitzi Rosanna Steady aged four, loved and missed by us all", and asked for privacy.