Storm troopers give guard of honour at funeral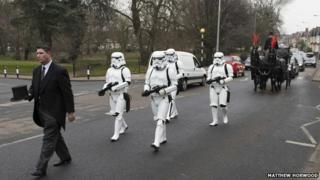 A Star Wars fan was given a funeral guard of honour by six storm troopers.
Father-of-four Gordon Deacon, 58, died in January after a battle with pancreatic and liver cancer.
His horse drawn coffin was flanked by the white-armoured soldiers from his favourite movie as part of his funeral procession to St Margaret's Church in Roath, Cardiff.
Mr Deacon's friends and family were welcomed at the service by the Death Star troopers in helmets and guns.
They stood with their heads bowed in mourning as Mr Deacon's coffin was carried into the church.
His widow Marilyn, 54, said the hospital housekeeper from of Llanedeyrn, Cardiff would be "over the moon" with the funeral theme.
She added: "He was mad on Star Wars. We went to see the first film in 1977 and ever since then he was fixated with it.
"We used to go to shows and he had a signed photograph of bounty hunter Boba Fett on the wall. He had Star Wars lightsabers, figurines, cookie jars, the lot."