Road remains closed after fire in Newbridge town centre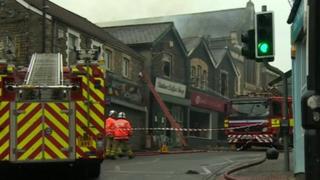 A road in Newbridge town centre will remain closed after a fire broke out.
Newbridge High Street will not reopen until the full extent of the damage can be evaluated, Caerphilly council said.
Two businesses were damaged and five properties were evacuated after the blaze at a charity shop at about 12:25 GMT on Wednesday.
South Wales Fire and Rescue Service said fireworks were in the back of the building when the fire started.