Average pay falls by another £300 in a year, says TUC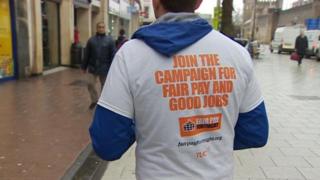 Average annual pay in Wales is still falling, down by more than £300 last year, the Wales TUC has claimed.
It said research showed that since 2010 full-time employees had lost over £2,200 a year - more than £40 a week.
Top bosses can earn the average annual salary in less than two days, and the gap was growing, the Wales TUC added.
General Secretary Martin Mansfield said despite falling inflation it would take "years" for people's earnings to recover to pre-recession levels.
The research takes the official Annual Survey of Hours and Earnings from the ONS and adapts it to take account of inflation.
The Wales TUC said average pay for workers in Wales fell by 8.3% in real terms between 2010 and 2014 , broadly similar to the UK average percentage fall.
Prof Kent Matthews, of Cardiff Business School, said looking at the UK inflation rate gave a general picture but you needed to look at how prices can vary from region to region.
"It's well known that in places like Wales it's cheaper to live here than in other parts of the UK so looking at the Retail Price Index (RPI) alone is not sufficient you need to have a price index for the local area as well," he said.
Research by Income Data Services shows that directors of leading companies in the FTSE 100 index saw their average earnings grow by 40% in 2013/14, with their middle income standing at £2.4m.
THE UK PICTURE
Median gross weekly earnings for full-time employees in April 2014 were £518, up 0.1% from £517 in 2013. This is the smallest annual growth since 1997, the first year for which the data is available.
Adjusted for inflation, weekly earnings decreased by 1.6% compared to 2013.
The largest decrease was between 2010 and 2011, but inflation-adjusted earnings have continued to drop since 2008, to levels last seen in the early 2000s.
For the year ending in April 2014, median gross annual earnings for full-time employees were £27,200, an increase of 0.7% from the previous year.
REGIONAL DIFFERENCES
The Wales TUC say average inflation-adjusted earnings have fallen in Wales by £2,217 since 2010.
According to the ONS, that figure for Wales earnings is £473.40 per week compared to a UK figure of £518.
London topped the regional list for median earnings for full-time employees, at £660 per week.
The table above shows this but ONS has also produced an interactive map if you want to look at what the average earnings are where you work.
In Cardiff for example, the median full-time earnings are £500 per week but they are £436 in Blaenau Gwent.
Meanwhile, business leaders say wages are finally starting to pick up.
The CBI in its latest forecast out on Monday said wage growth is expected to reach 3.0% by the end of 2016.