Joanna Michael: Family's victim support worker speaks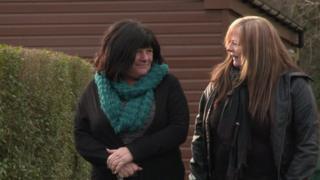 When Joanna Michael was murdered in front of her children, her mother Angela could not make sense of the hideous attack. But in the immediate aftermath, she could not dwell on it either - she had two traumatised grandchildren to care for.
Ms Michael, 25, from St Mellons, Cardiff, rang 999 twice before Cyron Williams stabbed her to death in 2009.
"All the kids had that night were the clothes that they stood in - we couldn't go and get their stuff from the house because it was a crime scene - it was horrendous.
"I think I would have gone mad if it hadn't been for Lana - she has been there from the start and knows everything," said Mrs Michael.
Lana Harrison works for the charity Victim Support. When Mrs Michael agreed to be interviewed for our programme, she wanted Ms Harrison to be part of it.
"She was there from the outset," said Mrs Michael. "There are dreadful things you have to prepare yourself for when someone murders your child, things no parent should have to even think of, but things that have to be sorted out and she has been there for me to help me through. Lana has been incredible."
Ms Harrison agreed to tell us the story from her perspective; the charity and its work are well known but it was a real insight for us to hear from someone who has sat alongside Mrs Michael through the worst times and seen the full horrific impact that a murder has on the victim's family and friends.
Ms Harrison describes it like an explosion - first there is the shock, then the impact.
She said: "People don't realise the impact - the ripple effect on the family, how it affects them because they all have to grieve in their own way and that can cause rifts and problems.
"In this case Angela and the kids stuck together and felt stronger."
Mrs Michael and her ex-husband Anthony are raising their daughter's children.
Their granddaughter, now aged 12, lives with Mrs Michael and her partner and their grandson, now six years old, lives with her ex-husband and his partner.
For Ms Harrison, the memories of her involvement in the early days and weeks after the murder are still vivid.
"Angela was brought into a whole new world which she'd not been in before such as the criminal justice system and understanding how that works," said Ms Harrison. "I was there to guide her through."
She recalls gathering Ms Michael's belongings to help her mother retrieve what she needed, something she admits was harrowing to watch.
Ms Harrison said: "She couldn't return there and psychologically she never wanted to go back to that home but there were important papers and things in there - the kids' birth certificates were needed - so Victim Support arranged to remove some of Jo's items and store them 'till there was a time when Angela felt she was able to go through that.
"That day was a really difficult day for Angela. We talked about it a lot and prepared in advance but... I will never forget she couldn't find her hairbrush, and she wanted her hairbrush, so we searched and searched as that was something she wanted at the time and she needed to have it as it was part of Jo."
Ms Harrison told us what impressed her so much about Mrs Michael from the very start was her strength and determination to do whatever she could to help her grandchildren and her daughter's younger brothers.
"She was the mother - she felt she had to carry on even though some days it was clear she didn't really want to.
"She had no time to deal with her own grief properly."
"Because of the circumstances around the death, Angela was exposed to so much that no mother should have to be exposed to - there were pictures and when she said her final goodbye to Joanna, she should not have had to see what she saw there. It was such a brutal murder."
Over the years, Week In Week Out has interviewed many families who have lost loved ones in the most tragic of circumstances.
As they told their stories, the one thing they all reflected on was that they never had the chance to say a proper goodbye.
In murder cases, there are the awful formalities of post mortem examinations for the prosecution and the defence, the delays before funerals can be arranged and then the very public examination of every aspect on the victims' lives.
Ms Harrison said that Mrs Michael coped by trying to be prepared for the worst.
"She had to read the reports - well she didn't have to - but we talked a lot about it in the early days and she felt she needed to and she didn't want to be surprised in court and hear things she never heard before - we did everything we could to ensure she was fully prepared."
Part of her job was also to prepare Mrs Michael for the ordeal of witnessing the man who killed her daughter in court.
They discussed what would happen at Cyron Williams's hearings; Mrs Michael wanted to be there but did not know how she would react to being in the same room as the man who had stabbed her daughter 22 times and inflicted more than 70 injuries on her body.
Ms Harrison said: "On day of trial he pleaded guilty. She knew she had to face him - she felt she needed to be there and speak up for Jo and she wanted him to look her in the eye because she wanted him to see what he'd done to her and the family. She did so well, she was so dignified."
Williams was sentenced to life imprisonment with a minimum of 20 years.
But his trial was not the end. The Independent Police Complaints Commission (IPCC) ruled Ms Michael, who called 999 twice in the minutes before she had killed, was failed by both the South Wales and Gwent police forces.
Ms Harrison has continued to support Mrs Michael and says her five-year campaign to change the law giving immunity to police in negligence claims has been "an inspiration".
As we filmed Mrs Michael at the Supreme Court appealing to judges to allow her family to sue the police forces who had let her daughter down, Ms Harrison was there in the background.
She said: "I don't think she realises how grand a scale this is - it's something that's important to her and knowing her the way I do, she will keep fighting 'till the very end.
"I think some people can find peace and happiness and I hope that's what Angela finds, I really hope she does."