Flood warnings after 'supertides' across Wales' coast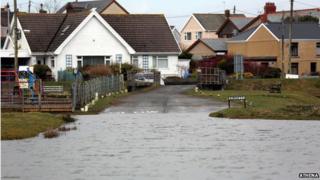 Flood warnings and alerts remain in force across coastal parts of Wales following the highest tides in two decades.
The so-called 'supertides' have seen some roads closed and localised flooding, as the unusually high spring tides wash in.
Warnings have been issued for Crofty on Gower, and for the Clarach Bay, Ceredigion, and Aberystwyth tidal area.
A further eight alerts for the Welsh coast are also in place until later.
The spring tides reached an 18-and-a-half year peak over the weekend.
Natural Resources Wales warned of "dangerous conditions" with water rising to more than 6ft (1.8 metres) above normal levels in places.