Welsh Ambulance boss says 999 targets need rethink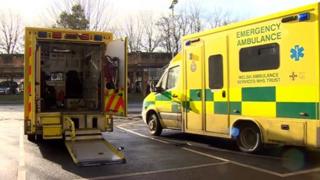 The head of the Welsh ambulance service says target times for getting to the most serious incidents need rethinking.
It comes as the latest response time figures show a slight improvement over the last month - which had been the worst on record.
There is an eight minute window for responding to Category A life-threatening calls - in January crews hit the target 48.5% of the time.
The Welsh government target is 65%.
Outcomes 'more important'
But speaking to BBC Wales on Wednesday, the chief executive of the Welsh Ambulance Service said the whole issue of targets needs rethinking.
"Most of the calls we take, most of the work we do, eight minutes does not make a difference," insisted Tracy Myhill.
"I want to look at clinical outcomes. I want to look at what happens when we see those patients and when we get them to treatment.
"That is much more important to the patients and to us than a time target that doesn't always matter actually in terms of the outcome to patients."
January's most urgent response times were up six percentage points, from just 42.6%.
There has been a reduction in the number of the most urgent calls over the month after the ambulance service had blamed a jump for December's performance.
But the latest figures, although an improvement, are still way below what is expected.
That 65% target has only been met once in Wales in two and a half years.
The Welsh government spokesperson said performance was not where the public, health boards, the ambulance service or ministers wanted it to be and improvement was a priority.
"These figures should be seen in the context of the significant pressure NHS Wales was under in January," added the spokesperson.
---
Response times breakdown
48.5% of emergency responses to Category A (immediately life-threatening) calls arrived at the scene within eight minutes
53.6% arrived within nine minutes
58.7% within 10 minutes
75.4% within 15 minutes
84.8% within 20 minutes
93.2% within 30 minutes
---
ARE EIGHT MINUTE TARGETS THE BEST MEASURE?
Analysis by Owain Clarke, BBC Wales health correspondent
A series of measures to "transform" the Welsh Ambulance Service are under way with the Welsh government.
More than £4m has been invested in equipment including defibrillators and extra pain-relieving drugs
Ambulance control now has a new desk - staffed by an emergency consultant, nurses and a paramedic - which aims to prioritise 999 calls to reach the sickest patients
The number of paramedics training is also increasing
But there is also a debate about whether or not the current eight minute ambulance response time target is the best way of measuring performance.
There are concerns that while it indicates speed it does not adequately reflect the quality of medical care.
In England, two ambulance services are to pilot new emergency response times which distinguish between the most serious cases - those which are immediately life-threatening (Red 1) and less urgent ones (Red 2).
Under the plan, being trialled in London and the south-west. call handlers will get slightly longer to determine the best course of action for Red 2 calls.
From next month separate figures specifically for Red 1 calls will be published in Wales.
The Welsh Ambulance Service decided to give its own breakdown for the last month with 62.8% of Red 1 calls being answered within eight minutes and 46.7% for Red 2 calls.
The Welsh government is also looking at new ambulance response measures. These would focus on three key treatment areas - care for people who have had heart attacks, strokes or fractured hips.
The new measures will be recorded alongside the eight minute target "for the time being" and ministers are to consider any further overhaul "in the coming weeks".
But any attempt to move away from that measure is likely to politically controversial.