North Wales rape accused OAP baffled by DNA find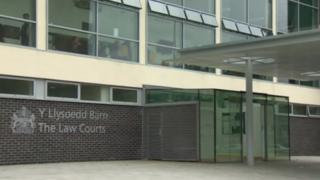 A pensioner accused of raping a stranger in Denbighshire has no idea how his DNA was found on the victim, a jury has been told.
Supermarket worker Malcolm Donaldson, 73, has gone on trial charged with the sex assault on a 24-year-old woman in Prestatyn.
The woman believes she was drugged and has no memory of the attack, Mold Crown Court heard.
Mr Donaldson, from Caernarfon, Gwynedd, denies rape.
At the start of the trial, the jury was told the defendant claimed he was not in the area at the time of the attack, and could not explain how his DNA came to be on the victim.
But the prosecution claimed there was a one-in-a-billion chance that the semen belonged to anyone else.
Muddy field
Describing the case as unusual, prosecutor Kim Halsall told the jury the victim had been out to a pub on the evening of the attack in March last year, but could recall nothing after leaving the bar.
She woke to find herself semi-naked in a field, covered in mud.
According to Miss Halsall, the defendant insisted he had only ever been to Prestatyn twice in his life - and believed he was at home in bed with his wife when the attack happened, some 45 miles away.
"Mr Donaldson says he did not rape her, he was not in Prestatyn that night and did not do what is alleged. If that is right, how did his semen get on the swabs?" asked Miss Halsall.
The trial is continuing.