Patient turned nurse helps hospital mark 10 years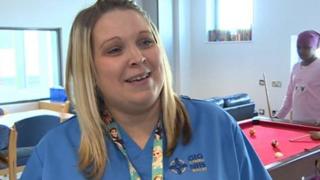 The first phase of the Noah's Ark Children's Hospital of Wales is celebrating its 10th anniversary.
Cath Davies is a nurse who works on the same Cardiff children's ward - now in the new £9m hospital building - where she was regularly treated as a child.
She admitted having a "love-hate relationship" with the ward but said her experience inspired her to go back there as a nurse.
Ms Davies said the new environment was "amazing".
The children's hospital opened on the same site as the University Hospital of Wales, with the old children's ward transferring.
Ms Davies qualified as a nurse in 2001 and works on the surgical ward, where she had lots of operations on her throat from the age of two.
"It was simply a children's ward. There weren't specifically-trained nurses to look after children, when you went for theatre you went along with adults.
"I spent some time in intensive care and I was next to an adult patient."
"Eventually I went for day surgery, and that was with adults too."
"It's now completely child-orientated and they get their own environment."
CHILDREN'S HOSPITAL FOR WALES FACT FILE:
The first £9m phase of the project included two 25-bed medical wards and one 16-bed paediatric cancer ward
Work began in 2003
The Noah's Ark Appeal, launched in 2000, raised £7m towards the cost by the time it opened at the end of February 2005.
Celebrities, including Catherine Zeta-Jones, Michael Douglas, Charlotte Church and Sir Ian Botham have given the appeal a big profile.
Delays and funding disputes held up the second phase.
Work on a second £63.8m phase was given the go-ahead in 2011 to include critical care facilities and four operating theatres.
The first patients are expected in the expanded part of the hospital by March 2015.
'IT'S REALLY FUN HERE'
"It's not really that fun in hospital, you're usually in a room with coughing people and you're just sitting there by yourself and really bored - but here you have a lovely play team as well," said Amal from Cardiff.
Hanad from Newport, added: "The staff help you a lot."