'Huge overcrowding' in Cardiff and Swansea prisons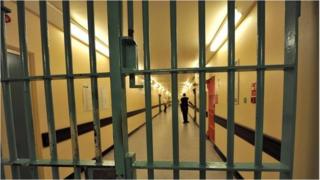 Two Welsh prisons suffer from "huge overcrowding", a campaign group says.
The Howard League for Penal Reform says Cardiff and Swansea prisons are running above Certified Normal Accommodation (CNA) levels - how many prisoners can be held safely and decently.
Cardiff's CNA is 539, but it had 810 prisoners at the end of January, while Swansea had 422 - above its CNA of 242.
Prisons Minister Andrew Selous said all prisons had safe population levels and crowding was at a seven-year low.
The charity analysed Ministry of Justice data for prisons in England and Wales and said Cardiff and Swansea were among prisons with huge overcrowding problems.
Parc Prison in Bridgend has CNA of 1,170 and was housing 1,452 while Usk's CNA is 378 with a population of 496.
Chief executive of the Howard League, Frances Crook, said: "Far too many people are being sent into already overcrowded jails and the need to stem the flow is now urgent."
Mr Selous added: "We always have enough space within our prisons to accommodate all offenders and will never be in a position where we can't imprison those sentenced by the courts."