Thousands watch parades celebrating St David's Day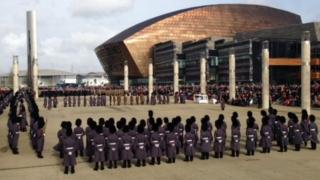 Wales' patron saint has been celebrated across the country with a series of special events to mark St David's Day.
In Cardiff, thousands of people watched the national St David's Day celebrations. Meanwhile, the Welsh Guards celebrated 100 years of the regiment with a parade in Cardiff Bay.
Cardiff Castle has also held a free day of Welsh music and entertainment.
In Pwllheli, Gwynedd, the parade had a Patagonia theme to mark 150 years of the Welsh colony in South America.
Two horses took part, with some marchers wearing ponchos and others carrying the Argentinean flag.
Speaking about the Cardiff parade, Major General Robert Talbot Rice, of 1st Battalion Welsh Guards, said: "For us it's a real delight to be in Cardiff on such a special day and during what is a truly significant year for us.
"It is 100 years ago to the day since the regiment mounted its first King's Guard.
"We wanted to do something in the Welsh capital to mark this occasion and we will make our presence felt all across Wales during 2015."
Prime Minister David Cameron also marked the Welsh patron saint's day by sending a goodwill message.
"I would like to extend my warmest wishes to everyone in Wales, across the UK and beyond, who'll be celebrating St David's Day on Sunday," he said.
"This special day provides us all with the opportunity to celebrate all that embodies Wales.
"A great nation which always shows pride and passion, a country rich in history with a great industrial, agricultural and cultural heritage."