RAF jets near miss over north Wales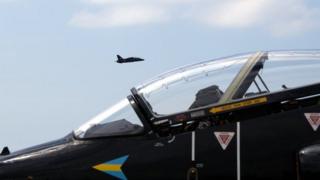 Two RAF training jets narrowly missed each other over Gwynedd last autumn, a report has found.
An investigation was launched after the Hawk T1 planes passed within a third of a mile of each other near Criccieth, at high speed and at the same altitude.
The incident was been recorded as a 'Category A' risk of collision - the highest level of risk.
In a separate incident in August, a Category C collision risk was also recorded over Gwynedd.
In the first incident in September, neither aircraft had collision warning systems fitted.
Low level flying
The Air Proximity report described how one of the pilots from RAF Valley on Anglesey was practising a high speed turn at the very limits of the Hawk's capability when they caught sight of the second aircraft.
The second pilot from RAF Valley was carrying out their first solo flight in a Hawk.
The pilots had an equal responsibility to avoid a collision and keep an effective lookout but had failed to see each other in time, the report concluded.
In an unrelated incident last August, another report describes how three Hawks were flying south west from Bala Lake when they encountered two Typhoon jets.
The pilots were alerted by radio and they climbed out of danger.
The report concluded it was a "Class C" incident with a relatively low degree of risk.